ITIL, now in version three, also advises us that all processes should be subject to a Continual Service Improvement Programme (CSIP). That is all very well but what should the target be? Should it be 'best practice', even ITIL is now only 'good practice'? Perhaps the target is to be 'as good as the most successful organisations in our industry sector' but does that mean those organisations that are best at Capacity Management or best at what their core business is. For example does the world's most successful retail bank have the best Capacity Management discipline or does it have one that fits with the organisation's goals by taking into account its own efficiency and costs?
Once a target has been set how does an organisation know where they are starting from? Perhaps they have already reached their target and don't know it or conversely have such a long way to go that the amount of resource required and budget needed will make the challenge close to impossible.
Capacitas offer two separate services to assist organisations in understanding how mature their Capacity Management discipline is and what targets to aim for. These services are the Capacity Management Self-assessment and the Capacity Management Audit.
Capacity Management Self-Assessment
This is a web based service that allows the user to answer questions relating to their organisation's Capacity Management discipline and then presents the results as a radar diagram comparing the user's results to the target, average and best previous results so far.
The questions are combined into five categories:
Interfaces
Organisation
Resources
Capacity Management Infrastructure
Deliverables and Services
The service has been designed to be an improvement on the ITIL Capacity Management Self-Assessment which has 58 questions but only yes/no options as answers. The major flaw in the ITIL version is that it does not allow the user to describe the extent to which their practices are compliant with the ITIL practices. Also the questions often ask up to four things in one question which makes it difficult for the user to understand whether to answer positively or not.
This confusion reduces the value in comparing one's results to other organisations as it is unclear if the same understanding has been reached by each respondent.
The Capacitas Capacity Management Self-Assessment avoids this confusion by asking clear, unambiguous questions that should allow any user to clearly understand how they should answer (assuming of course that they know enough about their own organisation). Furthermore each question has a useful 'hovering' help tip to give further advice.
If for some reason a user feels that the options given do not fit their own organisation's situation then they can email Capacitas to explain the situation and an appropriate response can be determined. The image below is an example report, which is sent to the respondent after completion of the Self-Assessment.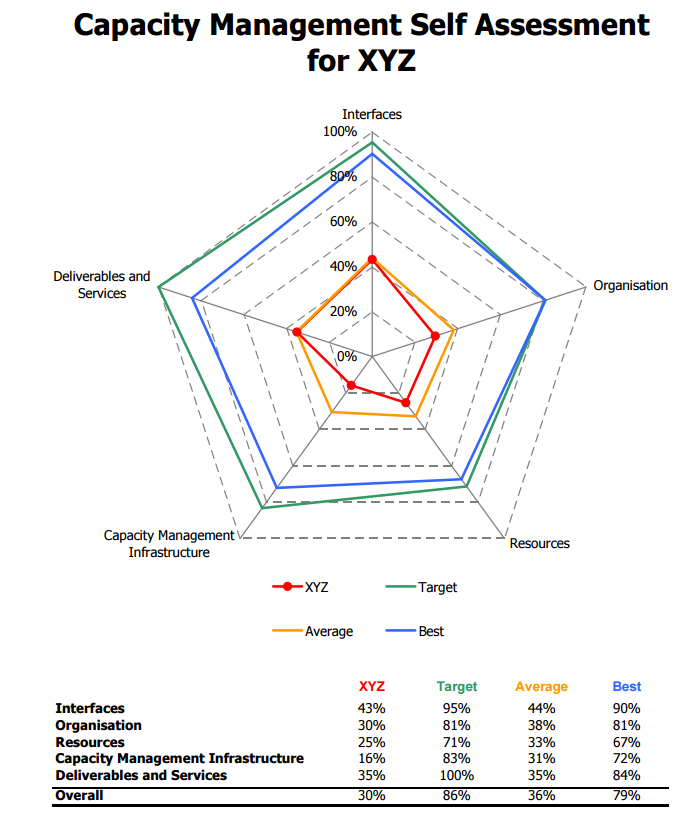 If necessary the customer can ask for further comparisons to be made over and above the defaults shown. This could be against other organisations in the same industry sector or against a previous submission by the same company; thereby helping to measure ongoing improvement in the manner of an ITIL inspired CSIP.
Note that targets are typically less than 100%; this is to allow the user to see whether they may be overemphasising some activities. For example is it absolutely necessary to produce capacity plans for every machine or service in the organisation? Perhaps it is better to concentrate on the quality of plans for important services to the sacrifice of detail in those less crucial areas.
One important aspect of the Capacitas Capacity Management Self-Assessment is that it is free; the user need only register on the Capacitas web site to use this service.
Capacity Management Audit
For customers who need more assistance in bringing their Capacity Management discipline to the target level Capacitas offer a Capacity Management Audit.
This service offers much more than the self-assessment. Capacitas consultants will work on site with the customer's staff and collect evidence of which activities are carried out and to what extent and quality standard they're carried out to.
Depending on the customer's requirements comparisons will be made to:
Best Practice
Previously audited customers
Previously audited customers in the same industry sector
Previously audited customers with a similar technology mix
Previous audits of the same customer
Different levels of process maturity (based on a maturity model)
A score will be calculated for approximately twenty broad categories but the customer can drill down to each category to compare their scores at a detailed level for each individual element. An example of these comparisons is shown below.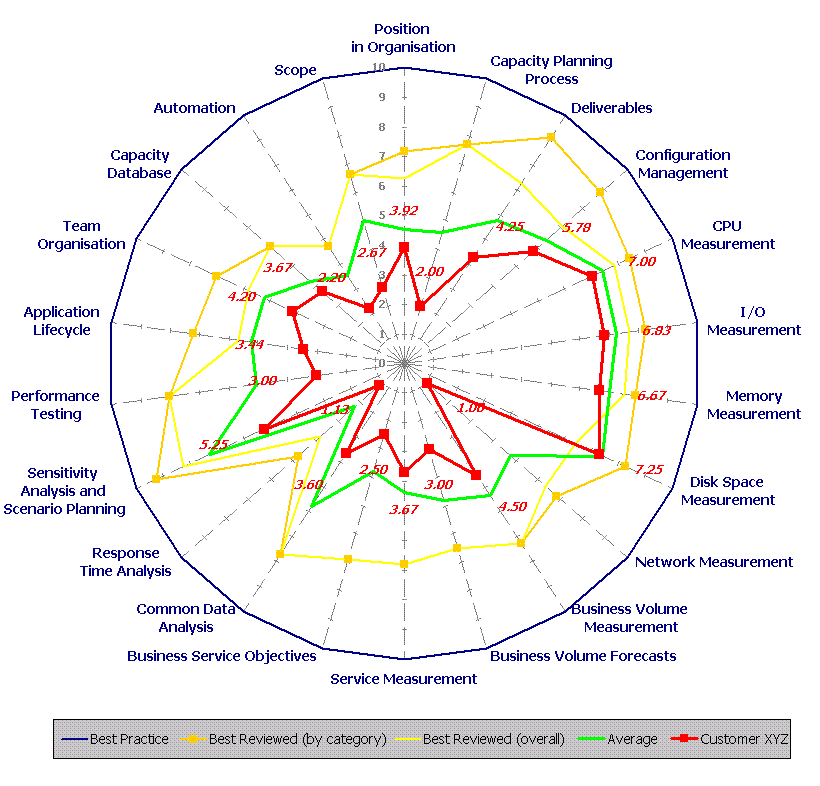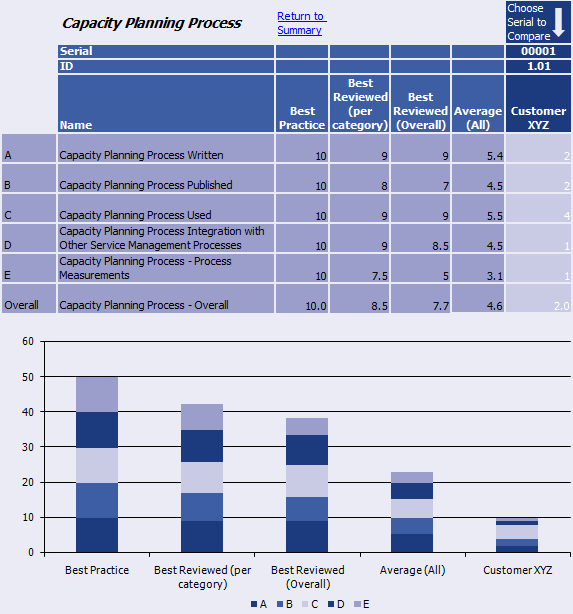 These scores will form a basis for a gap analysis that will focus on the differences between the current status and the target. A plan to close these gaps will then be drawn up with timescales, actions, owners and expected results. The customer can choose to engage Capacitas to manage this plan and/or carry out some of the tasks associated with it.
This audit service has a benefit over internal audits as it is both independent and carried out by individuals with years of Capacity Management experience as opposed to people with generic auditing skills. Often internal audits become 'tick-in-the-box' exercises with no real intention of improving things.
An external, independent audit also removes the possibility that people who have been working within the department being audited are too close to the activities and process to provide an accurate reflection. The independent audit guarantees objectivity.
The self-assessment can be used as evidence that the audit service is required, in this way the services are compatible.