You can download this Research Paper for easier reading!
Black Friday 2020 will be critical for retail survival
Businesses have lost revenue in 2020 due to the Covid-19 lockdowns. For lots of businesses, Black Friday is the last chance to get more cash and dispose of excess stock, and e-commerce is at the heart of that survival strategy.
According to Forbes, during the lockdown e-commerce experienced a 49% increase in sales (1). This shift caused by Covid-19 is unprecedented and it's believed that customer behaviour is likely to never reverse. According to a Google report (2), the implications of Covid-19 have accelerated digital adoption and that businesses must embrace digital transformation to keep up.
In IT there are two views emerging for Black Friday 2020 readiness
The first view; during lockdown capacity has already been proven because they experienced Black Friday volumes. However, looking at the volumes without considering the wider context doesn't prove your system is ready for Black Friday 2020. The second view; Black Friday 2020 capacity remains unproven as volumes will be far higher than previous years due to the massive increase in digital adoption.
What both have in common is the uncertainty of what will really happen during the Black Friday peak. From working with 18 online retailers, we at Capacitas have seen that IT system capacity is strongly dependent on both volumes and scenarios. Those can be external (e.g. types of users, the level of discounting etc.) and internal (e.g. platform changes, resourcing).
The Black Friday 2020 context will be different to the one during Covid-19. Customers will be looking for sales, not essentials, their user journeys will change for both old and new digital users on Black Friday 2020. This means many retailers have not proven their systems are ready for the Black Friday 2020 because of the uncertainty.
The 4 questions that drive Black Friday's 2020 uncertainty
How will Black Friday 2020 be?
Will new customers be less tolerant to website slowdowns?
Are there any new constraints in your website and backend system?
Is there enough time to prepare?
1. How big will Black Friday 2020 be?
There has been an uplift in website volumes during the lockdown. In previous years, Black Friday volumes were easy to predict based on past data. But, volumes across many retailers have been higher during lockdown, with some retailers reporting daily volumes surging to Black Friday numbers. Will Black Friday 2020 see a similar uplift? According to Google, online shopping represented 30% of April retail sales in the UK and that "consumers will continue to shop more online" (2).
We recently surveyed around 1,500+ LinkedIn users. 70% of respondents believe that companies expect to see an increase in demand higher than 20% this year. However, this number could increase further if there are store closures, or if the government gives vouchers/tax cuts, etc.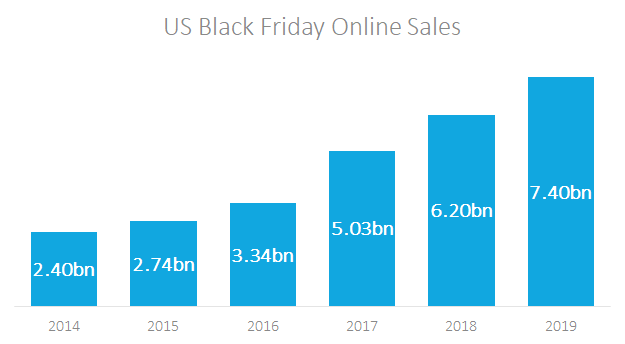 Source: Adobe 2019
"I believe it [demand] will increase, lockdown has forced more people to shop online that wouldn't normally and increased financial pressure on both side s will see shoppers seeking deals and retailers having sto ck to shift."


Andrew Mills , Ex-Head of Engineering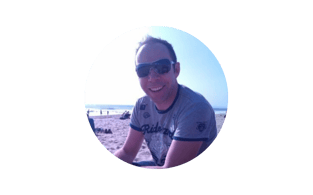 2. Will new customers be less tolerant to website slowdowns?
Revenue which was previously secure in your physical stores is now at risk in the digital world. There are lots of new customers to the digital space this year and it will be their first time buying online during Black Friday. According to Google, since the beginning of March, queries on how to buy online have doubled worldwide. (2)
Your newer customers may be less tolerant of slowdown especially if they have older and slower devices. Google's report confirms this:
"… it is clear that people have turned to digital channels for many aspects of their lives. As a result, consumers are no longer expecting only the experience they were offered before, instead they have developed much higher digital expectations. " (2)
Some organisations don't believe there is a relationship between great site speed and revenue, despite research from Google showing it exists. They cannot establish a relationship; therefore, they believe it doesn't exist.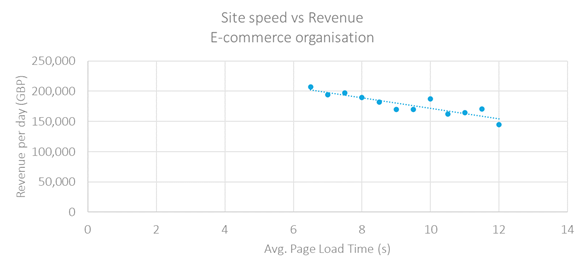 The relationship does exist, for this e-commerce organisation we engaged with, a higher page load time meant a decrease in revenue. As the project progressed, we measured the impact of lower load times and found that it increased revenue.
You need the right methodology and data from a wide range of sources to see it. In order to uncover it, you need to identify and cluster periods of anomalous user behaviour (e.g. early mornings, events etc). Once you have done this, the relationship will become clearer.
3. Are there any new constraints in your website and backend system?
There is always uncertainty about the website and backend capacity. Even if you are on the cloud, there are software constraints which can't be fixed with more cloud capacity. During the lockdown/furlough period, new undetected constraints may have crept in. They may not be picked up by your existing Black Friday process.
Risks can slip through the net, even simple ones. Last year, one of our customers released new functionality into the database. We found it had a missing index that wasn't picked up by the normal performance testing cycles. The new functionality usage patterns were not expected. On a promotion day before Black Friday, the database hit nearly 100% utilisation. Fortunately, it was a simple fix and it was identified before the big day.
4. Is there enough time to prepare?
People will have less time to prepare than before. As retail recovers and picks up postlockdown, preparations for Black Friday 2020 are likely to start even later than last year. In addition, many organisations have furloughed or laid off key staff, this means finding and resolving issues will take longer than previously.
However, there's still enough time if you start early. The key is to set your vision and ambition early, this will define your targets and goals for Black Friday. Once you have your targets, you will be able to plan and align your teams to the goals, allowing you to have a good preparation, in good time.
How you can prepare for this level of uncertainty
You will need to work on several aspects of your platform and make sure that:
Website and backend systems are in the best possible health
You can start looking at them now. That means a deeper dive than you have done before. Analyse historical data since the lockdown to check any key metrics that moved away from optimal behaviour. Avoid using thresholds as they miss early warning signs of problems.
Website user experience is better or comparable to your competitors
You may have had acceptable user experience before the lockdown, but since then, your competitors could have upped their game and raced ahead of you. Get an independent body to do this assessment as there is a tendency for internal teams to paint an overly rosy picture.
You can scale capacity for different scenarios
Even if you are on the cloud, you need to prove you can scale as often scale limitations are in the software, not the cloud infrastructure. This is not just in terms of volumes, but also in terms of user behaviour, marketing events, etc. That means testing and doing a deep analysis of the system with different mixes of user journeys or workloads.
Why should you act now?
You've got less time now than in previous years and major fixes can take 3+ months to go live. There are risks in the next few months that will consume valuable time because of external events, e.g. another lockdown, second surge, etc. That means you may have even less time than you think.
You can't afford to leave it too late. This Black Friday will be critical for your business' survival. If you identify with any of these issues, we can help you.
References

(1) https://www.forbes.com/sites/johnkoetsier/2020/05/12/onlinecommerce-eating-offline-retail-as-e-commerce-jumps-49-black-friday-inapril/#1360aa951baf

(2) https://www.thinkwithgoogle.com/intl/en-gb/covid-accelerateddigital-adoption/
---
View Free, Relevant Capacitas Insights
Whether you're looking to optimise costs, improve agility or drive value creation, our expert insights can help you. Ready to start?