Web Site Outage
The UK National Lottery web site was unavailable shortly after the end of the Grand National horse race event on Saturday.
The race finished around 17:30. Between 17:38 and 17:50 our monitoring showed that some users would have been greeted with this screen, when attempting to purchase lottery tickets online: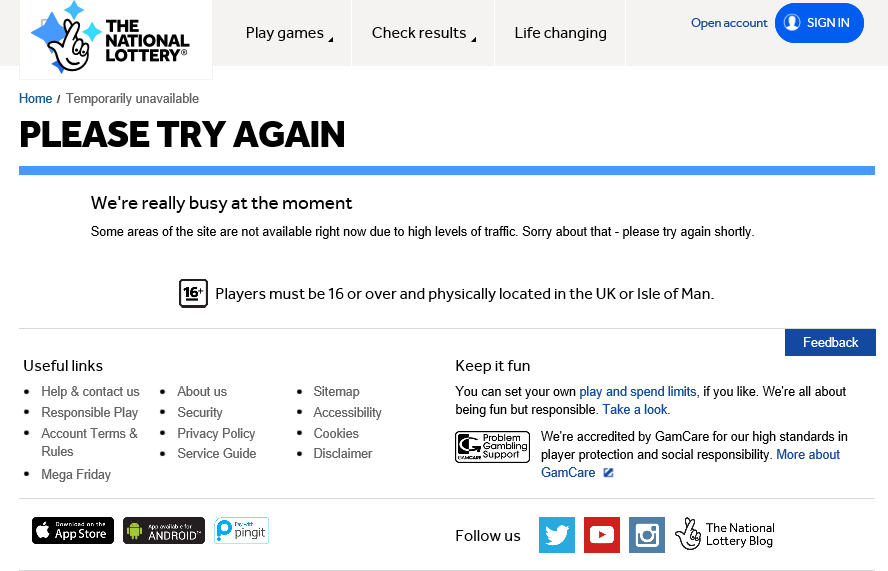 What Caused It?
Given the content of the error message, the hypothesis is that there was a surge of demand following the end of the race by punters. It appears that the National Lottery limited the number of concurrent users who could access the site in order to prevent it crashing. This is a sensible approach, but runs the risk of dissatisfied users not returning to purchase lottery tickets once demand had eased. We estimate up to £600,000 in lottery ticket sales are completed per hour in the peak period.
What could be done to prevent this?
The National Lottery clearly have a contingency approach for when demand exceeds supply.
Better prediction of the demand patterns would help them scale for peak and therefore fulfill all of the demand, maximising revenue. Accurate prediction of demand is difficult to deliver when it is influenced by other market events, in this case the Grand National. However there are a number of demand modelling techniques which can be used to address this.
Once the demand is accurately forecast, appropriate supply (capacity) should be put in place to fulfill it.
If you would like to learn more about our Prepare for Peak and Performance testing solutions, please click below, to see our latest Ebook.