Introduction
Most organisations will choose performance testing to reduce risks to IT systems.
Large sums of money are spent on making test environments to accurately predict the capacity and performance after introducing changes to a production environment. Costs associated with performance testing is mostly driven by the size of the environment and number of test cycles.
The high-level approach to this challenge:
In general, there are two different testing approaches, both with pros and cons.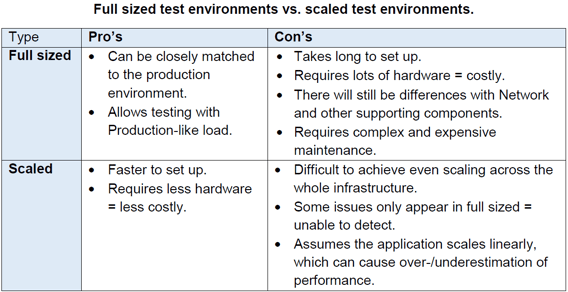 The Key Question:
This then leads us to the key question, 'How to bridge the gap between live production environments and scaled down test systems?"
And the answer is...
The answer is modelling – which is key in performance testing to accurately forecast capacity and performance in the production environment. Modelling is a systematic approach to breaking down and understanding the relationship between transactions and resource usage, and between the demand and transactions. The creation of a demand model can be achieved by taking measurements of different transactions while software testing, which gives you means to validate what happens in production.
Here at Capacitas, we have extensive experience with helping our customers increase value from testing the performance of their application software by bridging the gap between the performance test environment and production through modelling. Capacitas analyses data from both the test and production environments and combines this information with the improved system requirements to create advanced yet comprehensible models. These models allow us to adjust parameters and unknowns to fine-tune our predictions and forecast more correctly. Benefits include: exposure of performance issues which can be masked by noisy test results, and defining high risk scenarios which we use in the scaled down test environment
If you would like to learn more about our Modelling and Performance testing solutions, please click below, to see our latest webinar.
Related posts:
Why you are spending too much money on performance testing
RELATED PAGES:
Major airline realises year on year promotional sales growth by eliminating risk