Estimated read time: 3 Minutes
You've probably heard the question "How can e-Commerce best deal with peak sales periods?". These peak trading periods put a high level of pressure on e-Commerce businesses and usually happen during Black Friday. It's critical time to for your site or app to work at its best.
Website crashes will lose you revenue, damage your brand and use your engineers' time to manage the incidents. They are difficult to predict, but you can deliver successful peaks if you just...
Start Early!
The most important part of coping with peaks is:
Good preparation, in good time.
You need time to prepare
On a previous engagement with a £multi-billion ecommerce retailer, there was a requirement to process 12,000 orders in the peak hour during Black Friday.
When we started six-months before Black Friday, the store could only handle 3,200 orders in the peak hour. After investigating we found bottlenecks, one that caused the site to crash at 3,200 orders, then another at 4,000 orders, and so on.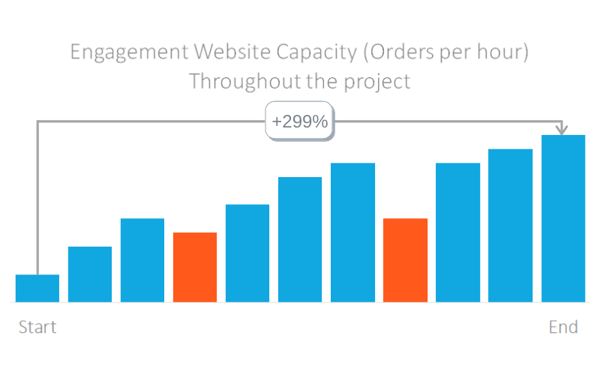 Each time a bottleneck is identified, you need to work with the developers to investigate the issue, identify a fix, test the fix and deploy to production.
During the engagement we delivered 16 major fix-test cycles to reach the goal. The amount of engineering effort and time required to deliver a 4-fold increase in order capacity was massive.
Where will you find bottlenecks?
Based on previous client engagements we've found that problems tend to happen in:
Bottlenecks in the software that supports the website
IT infrastructure capacity
Configuration of the ecommerce system
Bottlenecks in third-party systems
Your ecommerce site will have third-party systems such as loyalty, payment providers, packaging & delivery and fraud prevention. Any of these can bottleneck during peak periods, and it can take a significant amount of time to resolve them.
You have time to prepare
We are around 5 months away from Black Friday 2020. Starting now will ensure you will be ready, confident and can get a full night's sleep ahead of Black Friday.
---
View Free, Relevant Capacitas Insights
Whether you're looking to optimise costs, improve agility or drive value creation, our expert insights can help you. Ready to start?