Estimated read time: 4.5 Minutes
Great site speed will be the biggest driver of revenue
Faster site speed improves online revenue. There's plenty of Google research that shows it, and we've seen it first hand. [2], [3] and [4]. Google measures speed as time a web page takes to load, interact and be stable. These are all site speed metrics [1].
What's new?
Site speed will become more important after lockdown as more revenue will shift to e-commerce. Research shows many of those who have experienced online shopping won't go back to physical stores. [5],[6],[7]. Revenue which was previously secure in your physical stores is now at risk in the digital world.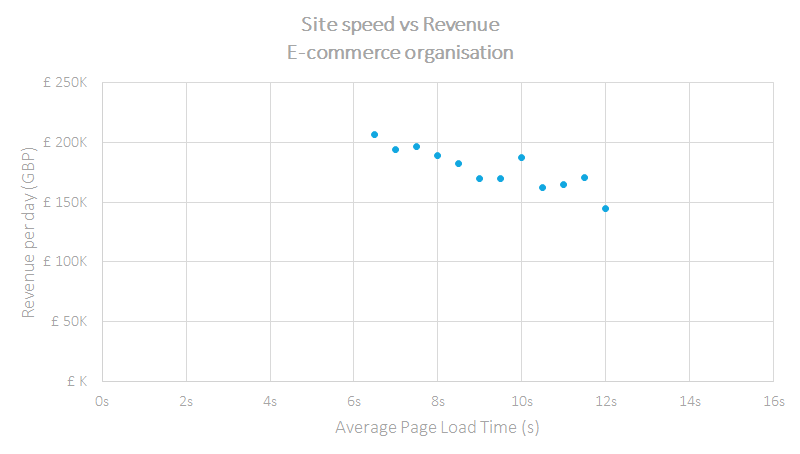 Organisations face 4 key challenges in increasing digital revenue by improving site speed:

How does your site speed compare with competitors?

How much of your revenue is linked to site speed?

Who owns site speed in your organisation?

Where should you invest?
1.

How does your site speed compare with competitors?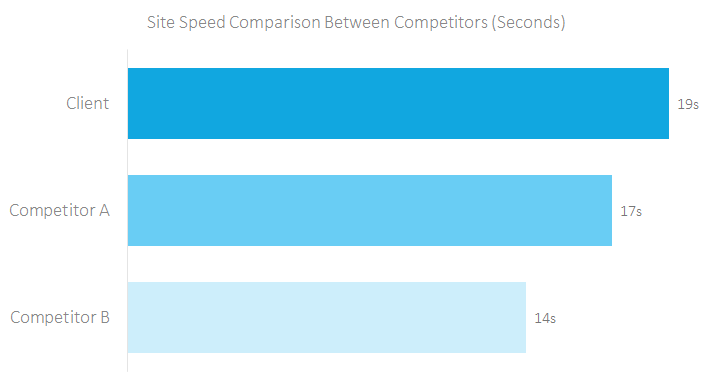 Data: E-Commerce engagement
You want to stand out from your competitors.
But getting an accurate assessment of how your site speed compares to competitors is difficult, because there are many metrics for measuring speed. There are different measurement points in the users' journey, different devices, different user locations, browsers, etc. It involves measuring site speed in different parts of the user journey under different conditions, e.g. your pages may be more sensitive to network bandwidth than your competitors. If you test with an unrepresentative bandwidth speed your performance will appear to be better than your competitors.
You need the right methodology to give the business an accurate picture to enable the right investment decisions.
2.

How much of your revenue is linked to site speed?

Even having the correct metrics and measurement points, understanding how they correlate with revenue is complex and unique. The actual revenue relationship to site speed depends on many factors, including seasonality, product etc. You can get theoretical estimates from Google [8]. However your organisation should be able to say and prove that "A 1 second improvement in speed means a X% increase in revenue".

Some organisations don't believe there is a relationship between great site speed and revenue, despite research from Google showing it exists. They cannot establish a relationship, therefore, they believe it doesn't exist.

The relationship does exist but you need the right methodology and data from a wide range of sources to see it. In order to uncover it you need to identify and cluster periods of anomalous user behaviour (e.g. early mornings, events etc). Once you have done this, the relationship will become clearer.
3.

Who owns site speed in your organisation?

Speed falls through the gaps between the business, engineering and data science teams. Even, simple changes on web pages, e.g. image/content size and sequencing, can have a big impact. This impact is not well understood in organisations because they don't correlate speed with revenue and conversion rate.

Your organisation needs an individual who has sole accountability for site speed, platform capacity and revenue. This will allow them to make direct investment decisions to maximise digital revenue.
4.

Where should you invest?

There will be hundreds of technical optimisations you could make. But the real question is, which specific optimisations will deliver the greatest upturn in revenue? Focus your engineering resources where you will get the biggest bang for the buck. These could involve in improving sequencing, size and efficiency of script processing.

You can get ahead of the competition by being the fastest. The time to act is now before they get a head start.

Contact the team and we can arrange a free consultation to get you started.
---
Reach Excellence
View Free, Relevant Capacitas Insights
Whether you're looking to optimise costs, improve agility or drive value creation, our expert insights can help you. Ready to start?
---
References

[1] https://webmasters.googleblog.com/2020/05/evaluating-page-experience.html


[2] https://ai.googleblog.com/2009/06/speed-matters.html


[3] https://blog.chromium.org/2020/05/the-science-behind-web-vitals.html


[4] https://hs.capacitas.co.uk/how-do-response-times-affect-your-revenue-and-sales


[5] https://www.the-future-of-commerce.com/2020/04/27/buying-behavior-after-covid-19/


[6] https://econsultancy.com/covid-19-changed-shopper-behaviour-online-stats/


[7] https://www.ey.com/en_ro/consumer-products-retail/changing-customer-behavior-growth-strategy