A Great Place to Work
London based IT consultancy Capacitas has once again been rated one of the top 50 IT companies for graduates. This was in the leading annual survey of graduate-level employees, conducted by the employee review site TheJobCrowd.com
We are delighted to receive this recognition and have consistently been in the top 50 since 2014. Our graduates are valuable additions to our organisation and have helped to enable our rapid growth. We believe in giving graduates and apprentices responsibility and challenging them from the start. Todays intake are our stars of the future.
Job crowd rankings are 100% based on the opinions of graduate employees. All of the information is collected anonymously so employees can give a truthful inside-view of what it is like to work for Capacitas.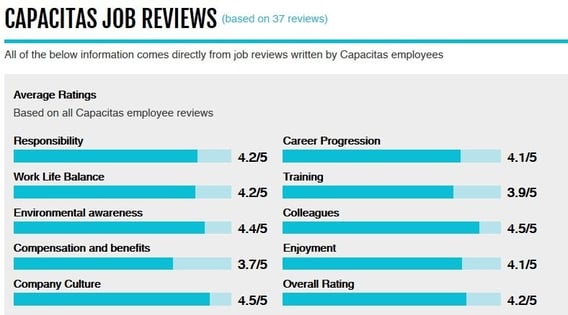 What JobCrowd Said
Natasha Freeman, co-founder of TheJobCrowd.com;
"A lot of the companies that graduates have heard of and might think of as good employers actually turn out to be less good to work for when we hear directly from their employees, while there are many less well-known companies who were rated as excellent graduate employers."
"It is only by hearing the views of those actually working for these companies that graduates can really know who is a great company to work for."
Co-founder Keren Mitchell said that the unique make-up of the list had big implications for graduates looking for jobs.
"The last couple of years have seen record numbers of applicants for graduate roles at the most well-known employers so graduates need to look beyond just these names when applying for roles", Mr Mitchell said.
"There are a huge number of companies who are great employers but may not yet be on graduates' radars. There are also many familiar household names that many graduates might not realise offer very good graduate job opportunities."
Additional Information
Capacitas Full JobCrowd Profile