Many private equity-owned companies spend huge amounts each year on public cloud infrastructure and services – particularly companies that serve a large online consumer base.
Strategic management of that cloud investment can deliver millions back to the bottom line. At Silver Lake Partners-owned Ancestry.com, for example, a board-level focus on 'cloud excellence' delivered a 40% annual saving while ensuring the infrastructure could scale in line with growth objectives.
With 13% of enterprises spending more than $12m a year on public cloud services[1], cloud excellence is an attractive – and largely unexplored – value creation opportunity for private equity firms.
Hey, big spender: How unmanaged cloud investments eat into profits
When high-growth companies increase their digital footprint, their cloud costs inevitably deliver an unpredictable price tag.
The cloud offers flexibility in speed of provisioning, incredible choice of technology type, and vast amounts of capacity to service demand. But this flexibility brings increased complexity, elevating the risk of unpredictable costs and eroding value creation goals.
Three types of cloud journey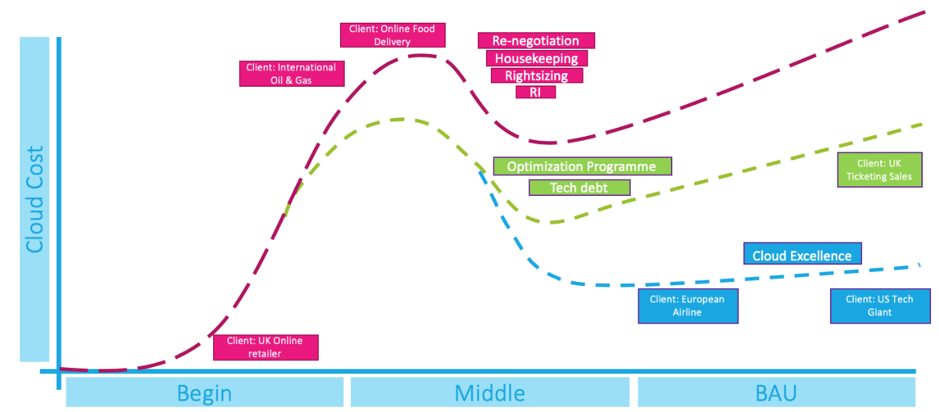 Three types of cloud journey
This graph shows three typical journeys taken by organizations following a migration to the cloud. The direction is heavily influenced by the way the senior team manage cloud as an IT investment.
The beginning of the journey is typically characterized by a rapid increase in cost associated with the migration. In the middle stage, as the organization becomes more cloud native and adapts to the challenges of a cloud ecosystem, the journey takes one of three directions.
Red line: Knee-jerk cost reduction efforts have no long-term impact
The red line represents an organization where cloud costs grow exponentially, exceeding financial forecasts. This prompts finance executives to institute cloud cost control initiatives to drive down spend. The CloudOps team is given a cost reduction target; typically a percentage of overall cloud spend. However, this target is not based on science, but rather a number that feels reasonable to the financial team.
The target prompts the CloudOps team to perform housekeeping activities like renegotiating supplier contracts, purchasing reserved instances (RIs), removing unused instances, and rightsizing. In the short term, as the graph shows, these activities can deliver cost reductions of ~20%.
However, housekeeping activities also remove resources from growth activities and fail to address the root causes of the exponential growth in cloud cost. And once finance teams stop focusing on cloud spend, costs begin to creep up again.
Green line: Executive sponsorship delivers better results – but costs still rise
The green line represents an organization with a more formal cost optimization program, typically with executive sponsorship. The executive leadership is more serious about tracking the drivers of cloud cost and has established a FinOps function.
Typically, this is a high-growth organization that wants to address the technical debt preventing it from scaling. Such organizations recognize that there are constraints beyond capacity, such as architectural and code issues. Savings in this scenario can equate to a further 20%. However, as with the red line, these organizations are also prone to cloud cost creep.
Simplistic forecasting is at the root of the cloud over-spending
In both the red and green scenarios, organizations tend to adopt an overly simplistic forecasting model. In other words, if the business forecasts a 10% growth rate, cloud spend forecast will run at 10%. Organizations should avoid this model for three reasons:
Compute cost typically drops year-on-on year, meaning savings are not linear.


Systems become more efficient the busier they become. In an organization with a healthy cloud ecosystem, cloud cost should drop year-on-year or remain flat



An overly simplistic model doesn't allow the business to model growth and product scenarios.
The blue line represents an organization with a well-defined cloud strategy, enjoying optimal performance at predictable cost and the flexibility to scale rapidly.
Such organizations have an end-to-end view of their cloud ecosystems with a clear understanding of efficiency. This holistic approach to cloud management is what we at Capacitas call 'Cloud Excellence'.
Cloud excellence delivers 40% annual savings for Ancestry.com
As an example, the board and operating partner at Ancestry.com challenged the senior management team to deliver 20% savings on their annual Amazon Web Services spend within 12 months.
Capacitas was engaged to review the existing cloud landscape in light of the company's growth strategy, and make recommendations for optimizing costs and resources. In less than six months, we had identified opportunities to deliver 40% of the total cost savings target.
But that wasn't all. We also helped Ancestry uncover and remove risks that had been hidden in costly, oversized cloud environments – thereby improving the overall quality of their platforms and ensuring they are capable of scaling for continued business growth.
Capacitas: helping Private Equity firms create value from cloud
To realize maximum value from cloud-intensive companies, private equity firms must understand where each portfolio company is in its cloud journey, and the trajectory each one is currently on.
Capacitas works with private equity firms to assess the cloud landscape at acquired companies. We then make recommendations that deliver sustainable savings, while ensuring the company has the infrastructure it needs to support growth, quality and customer experience objectives.
[1] RightScale, State of the Cloud Report, 2019