Following our last post at 17:00 on Black Friday, lets take a look at what happened between 21:00 and 22:00 on Black Friday, in what we would expect to be the peak hour for sales: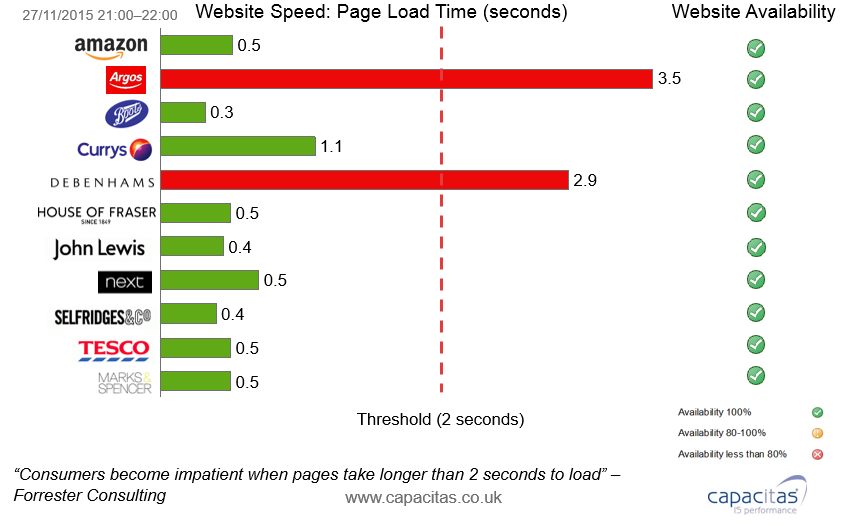 All sites were up in this busy hour, however Debenhams joined Argos with page load times higher than the 2-second threshold.
Let's look back and recap how are retailers fared over the big day. Which sites stayed up and which went down? The graphic below shows how each fared by 15-minute intervals over the afternoon and evening of Black Friday.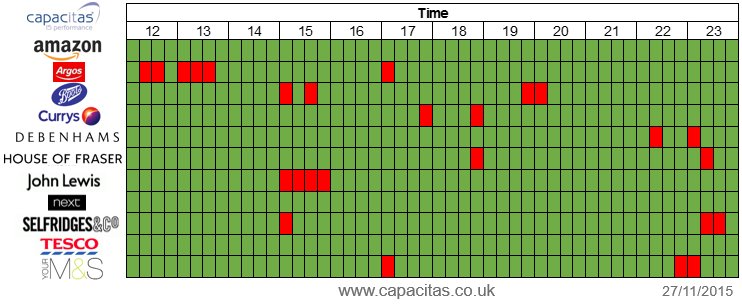 Argos was down most frequently. Remember for a shopping web site to be classified as up, it's not just the home page which must be up. The shopper must be able to transact with the web site, i.e. search and add items to their basket.
John Lewis went down between 15:00 and 16:00, as reported on our blog during the day. As shoppers rushed to get bargains in the last 2 hours of the day, we observed periods where the web sites of Debenhams, House of Fraser, Selfridges and M&S went down. Amazon and Tesco set the standard for up time.
Over the weekend, Saturday and Sunday were relatively uneventful. Here is the summary for Sunday: