Research by Capacitas, specialists in preventing websites from crashing, has found that some of the leading betting sites struggled with demand for online betting around the time of the Europa League Football matches last night.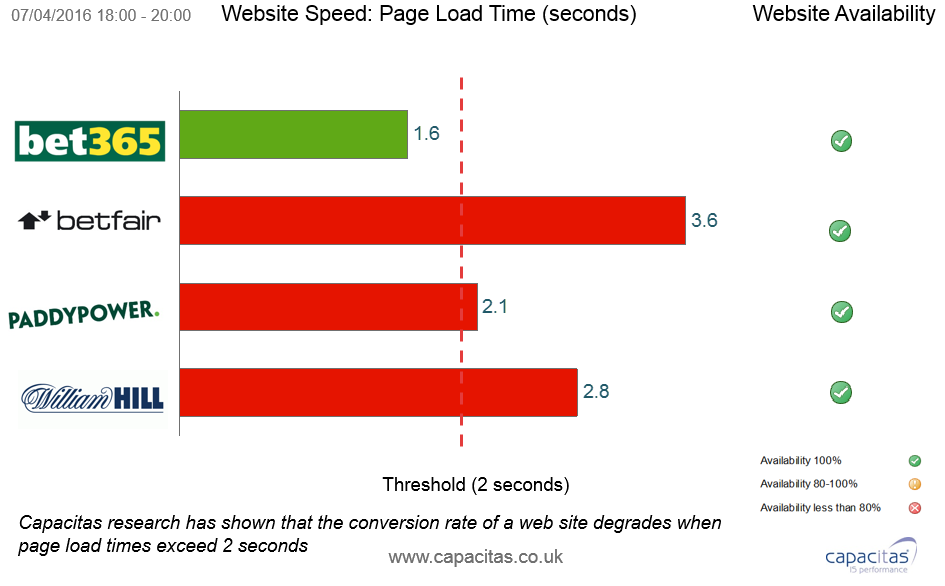 With the annual surge of last minute Grand National betting just a day away, Capacitas is predicting that many will lose sales through slow performance or even through crashing – as has happened in past years.
Capacitas's monitoring of the large bookmakers' websites found that during this busy period the time for a page to load on William Hill, BetFair and PaddyPower exceed two seconds, which is slow enough to deter many people from using the site. Bet365 performed well.
Capacitas director Danny Quilton said: "When a website slows or even crashes, it loses customers to its rivals – especially for time-sensitive events like horse races."
Danny Quilton added: "The Grand National is a hugely popular event and an example of where gambling websites must cope with extraordinary peaks in demand, typically 10-times that of a normal day.
"When a major betting website crashes at such a peak time, the lost revenue could be as high as £30,000 per minute."
Notes on Methodology
Results above are for home page only
Third party object retrieval is not measured
All objects hosted on the betting site's domain(s) are measured
Page load time is time to last byte
Page render time not included
Measurement point is on a Tier 1 internet peer, therefore:

Network transmission time and latency will be minimal
Measurement focuses on the performance of the core system
If you would like to learn more about our Prepare for Peak and Performance testing solutions, please click below, to see our latest Ebook.